OUR STORY
Following a national security exhibition at Wembley in 1990, where we displayed a full height turnstile we received an unusual enquiry for a number of full height portable turnstiles.  It was unusual in the sense that normally turnstiles form a part of a fixed infrastructure project i.e. football stadia, industrial complexes etc. where portability would rarely be necessary.
We responded to the enquiry, subsequent to an exploratory site visit and meeting at the world famous Glastonbury Festival of Performing Arts by designing turnstiles to meet their specific, unique requirements. We based our design submissions on turnstiles we had previously installed in UK naval dockyards. These turnstiles needed to provide secure entrances but to be capable of being moved around various quayside locations, which were determined by the size of the vessels being serviced.
The Glastonbury brief required the equipment to be sufficiently robust to operate in a busy demanding environment on a green field site. Integral to the design they were to provide a reliable count for the anticipated tens of thousands of festivalgoers and to be located anywhere around the site perimeter as required by the Glastonbury management. To this end they were all framed as a modular construction capable of being craned or forklifted into their various designated entrance positions.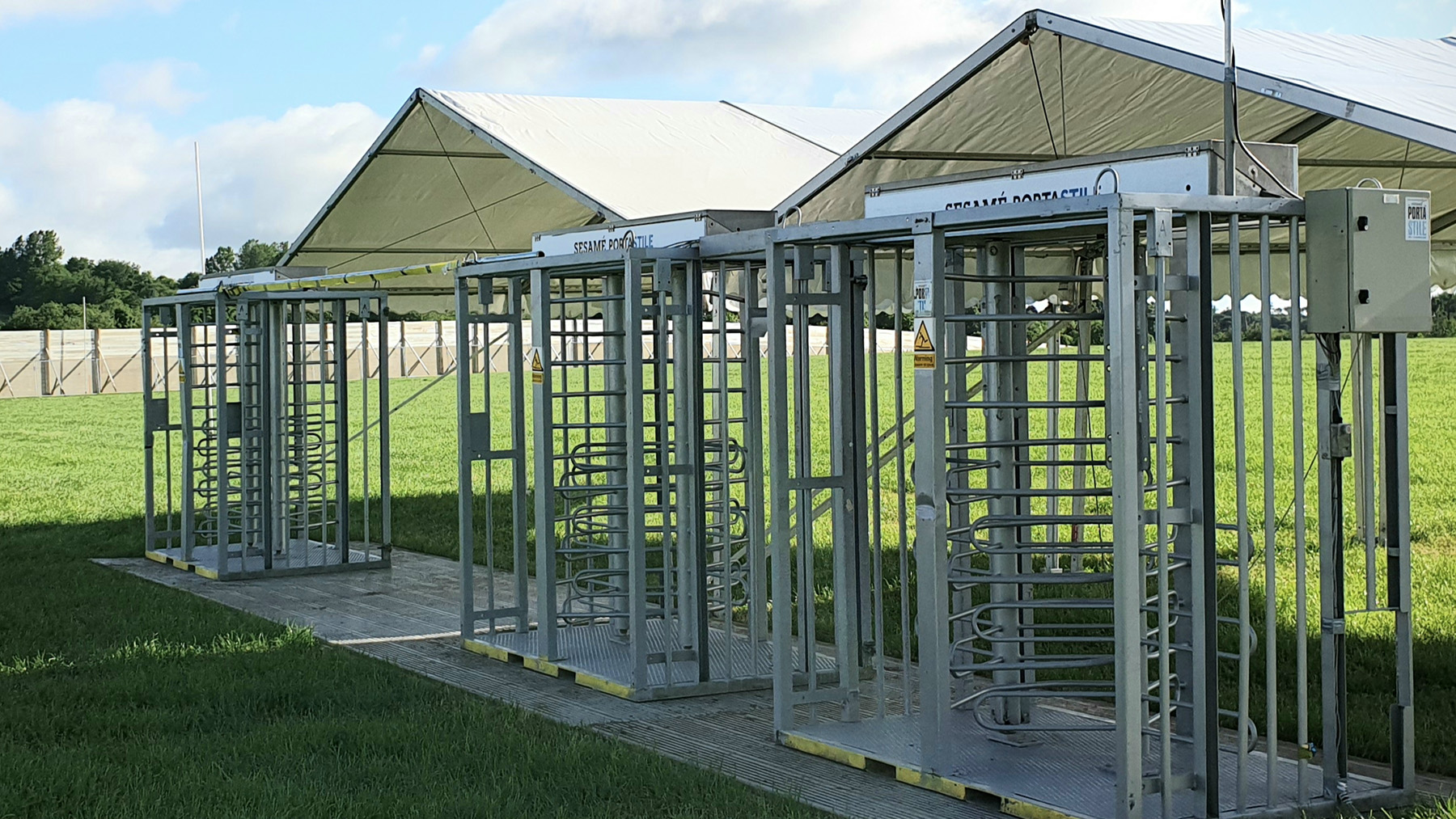 Initially the equipment generated a mechanical count with the numbers displayed on the equipment itself and retrieved and recorded by Sesame Portastile operatives. However, it soon became apparent that as the site filled up the manual retrieval of the numbers meant that collection, collation and reporting of the data was not current at the time of presentation.
To address and improve our service to the Glastonbury management we engaged the services of an experienced specialist telemetry company who in conjunction with ourselves developed a tailor-made radio transmission system for each individual turnstile and pod. All of which reported in real time to our site control centre. An initial serious obstacle to overcome was the lack of power around the site perimeter so to that end we designed a stand-alone battery-operated system independent of any external power source.
In tandem with our telemetry project we also developed a compatible software system which enabled us to display, print and record all festival goer movements be they first time entrants, pass outs or returnees. An essential feature of this newly commissioned package was the ability to retrieve all data generated to determine flow rates and individual gate movements it would also enable post event analysis and planning for future events to be undertaken.
As the Glastonbury festival has gone from strength to strength in the 30 years of our involvement so the entry system has grown with it. It would now typically record over 600,000 personnel movements through the perimeter gates.
Happily, our continuous involvement since 1991 with the Glastonbury Festival Festival of Performing Arts continues to the present day and we are immensely proud to have played a small part in its success.
Although the Glastonbury Festival has played a major part in the Sesame Portastiles development and activity it has not been exclusively so . . .
Other events, in urban, inner city settings, where our equipment has provided perimeter security turnstiles as part of a larger security system include national political conferences at Brighton, Manchester, Liverpool, and Gateshead for West Sussex, Greater Manchester, Merseyside and Northumbria Police Forces respectively.
Sesame Portastile have over 30 years experience in monitoring attendance and visitor movements. View our case studies
Safe guarding gate receipts, revenues and visitor numbers at your event
Sesame Portastile
2019-12-12T11:27:07+00:00